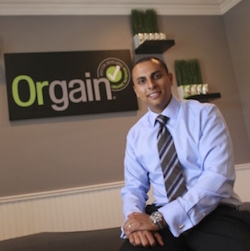 Andrew is a cancer survivor and medical doctor, who knows firsthand the critical importance of organic, wholesome nutrition and the vital role it plays in supporting the body in times of stress.
While undergoing chemotherapy and radiotherapy he was shocked to learn that the nutritional shakes his doctors were recommending were full of ingredients that were bad for him. With no better alternative he decided to launch Orgain, the first organic shake, in 2009.
In this episode Andrew shares his remarkable story, the importance of clean, organic food, Why Hunger? Closing the hunger gap and more.
Enter our Orgain are giveaway here.
These episodes live on the Uplifting Content Facebook page every Tuesday and Thursday at 10am PST so if you want to be part of  the conversation be sure to join us during the Facebook live to share your thoughts and questions.
Subscribe for the latest episodes and if you enjoy this podcast, please leave a review on itunes, it really helps the podcast reach more listeners. Send a screen shot of your review to info@upliftingcontent.com and we send you a gift to say thank you.
 Subscribe to our Weekly Dose Of Uplifting Content email and receive 100 inspirational memes to share on social media.
Ione Butler
Uplifting Content
Andrew Abraham